Internet Dating Irks – The Frustrations of Online Dating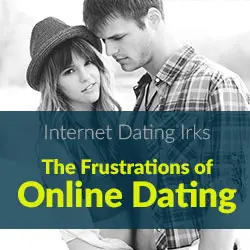 I started internet dating again about a month ago. These are some things I have come to realize or are the opinions of my friends and associates. It is definitely a numbers game, the person you match with might not be the person you end up being soul mates with, and some will talk all day long on the chat line, yet never meet you. Also, try to avoid the smug people. They will frustrate you every time.
Online Dating Is a Numbers Game
Online dating is a numbers game. Wake up and smell the roses if you didn't know this. You've got to keep on playing the numbers, till that one combination becomes the winning one, and you end up married to the person of your dreams. If you set your sights high, then you need to remember you are only going to be concerned about 10% of the people who write to you on a dating site. The other 90% are there to weed through, sort out, and throw away (delete the emails from the universe). It can be quite frustrating to walk through the mundane, but eventually you meet the right person, and you don't wonder about the time the person was not in your life.
Sometimes There's an Irking Earl lurking Around the Corner.
I've set my personal standards higher because I am seeking my soul mate at this point, but what I personally found ridiculous lately, is a particular guy, we will call him Earl. Earl shouts at me on one of the dating sites I am on. He seems really anxious to meet me, and we almost end up meeting the same day because we are getting along great online. There is genuine interest. However, after he leaves for a holiday, only 3 days later, I never hear from Earl again. Did I do something wrong here, absolutely not. Earl, I believe, is an online shout cosmonaut. He just shouts at people and he never intends to meet them. Is Earl a dating frustration, definitely! It's time to pack up my bags and move on from cosmonaut Earl.
Where You Meet Someone, Mix It Up
A friend Tracy, age 30, is on one particular dating site. She has various new pictures, about 10 in all, all new and done up by a professional photographer, and even has a very catchy title, but does anyone catch her, no. It's been about a couple of months and now she is starting to worry about it. What Tracy may not understand though, is that you can't put your eggs in one basket. There are other places to meet people, and Tracy should be looking there, too. One can meet by a matchmaker, a coffee shop outing, a church, a meet up, all sorts of groups or networking events to name a few. Once you open up your horizons then the more likely the numbers game will work in your favor, and you are likely to meet the person of your dreams. Sitting alone in your room is not going to get you your soul mate. You must make some kind of effort, or your results will never be what you hoped for.
Smug People Have No Reason
Have you ever met some who thought that he or she was God's gift to the world on the internet, and thought they were better than you? Wake up. This person is not worth your time, and I wouldn't think twice about dating someone like this. People need to look at the whole picture of what they would like and need in a mate. Smug people might go around thinking they are better than everyone else. What they are really doing is hiding some insecure feeling that they aren't that great in some area, or they wouldn't be over projecting themselves. If you really do feel good on the inside and out you will not be trying to overcompensate when you are out there talking to people in the real world. I hope this article has given you more insights to the frustrations of online dating and things you can now avoid in the future.
About the Author
Latest Posts
Lauren Castle is an internet article writer. She consults with people all over the Bay Area and beyond for their take on internet dating, which is one of her writing categories. In her spare time she sings karaoke, travels, reads various topics, and visits the beach nearby.
Born in San Francisco, CA, Lauren was raised and is currently a resident in Fremont, CA where there is an affluence of culture, diversity, and industry. She spends her spare time volunteering for a private Industry where she has met many positively influenced people. One of her future projects in the works is helping write a book that will impact the lives of many people.
Connect with Lauren Castle Writer for Love Engineer
Google+