The Two Things You Need to Do to Get Your Woman to Listen to You
Not sure if you're aware or not, but you guys are known for the "fixing." This is one of the inherent differences between men and women and it tends to cause a lot of issues in relationships. Women talk and deliberate, and men fix.
Let me give you an example. Your partner is complaining about gaining some weight. Maybe she just hasn't been able to take off the baby weight, or maybe she's put on a few pounds because she's not putting her fork down when she should. Regardless, she complains about it to you. You then offer "helpful" suggestions about all the ways she could lose weight:
"You could come with me to the gym,"
"You just need to eat a little less at each meal," or
"It would help if you stopped eating after 8:00pm,"
These are all excellent ideas, but you need to stop. Yes, I said it, you need to put a cork in it and stop offering suggestions.
Here's the deal: women like to process and discuss and it does not mean that we want you to come up with an answer to our problem. We just want you to listen and be sympathetic. The issue is that you guys don't "share" like this unless you want some solutions to fix the problem, so you assume that your woman is sharing because she wants your help fixing it. That's a faulty assumption.
First of all, if you're with a woman who can't figure out how to lose weight on her own, then you have bigger problems than this little article can handle. I mean, really, you think she doesn't know to eat less and exercise more? You think she's not beating herself up ALL DAY LONG about that cookie she ate or that she had four tablespoons of salad dressing, instead of two, at lunch? Yes, this is how women think and, trust me, she's been obsessed about her food and body all day. She's stared at her butt in your full-length mirror for way too long this morning and is plenty critical of herself with no help from you.
You offering suggestions does three things, and three things only:
It makes her resentful and angry that you're not listening and now you're "nagging" her.
She's now obsessing about how you think she's fat too…
It makes you frustrated and angry that she's complaining (again) about her weight and not consistently doing anything about it (despite your awesome recommendations).
Now, maybe your partner isn't complaining about her weight. Maybe it's about her mean boss, Barbara, or how long she had to wait in line when she was grocery shopping (yes, your suggestion that she go at a different time was ignored – see what I mean?). It doesn't matter the complaint; it only matters about your response.
Your response needs to be sympathetic without being condescending. Here are the two things you need to do to get your woman to listen to you:
Speak to the feeling. So, you might say, "I'm sorry you're not feeling good about your weight." If you want to have sex sometime before she loses that 20 pounds, you'll need to throw in, "I'm turned on by you all the time, so it doesn't matter to me – but I'm here if you want me to help you in any way."
If it's about Barbara at work you might say, "This sucks that she's still doing X. I hate to see you upset about her."
Next, ask a collaborative question. A collaborative question is one that will start a dialogue. I say not to

SAC

your relationship, so don't offer

S

uggestions, give

A

dvice, or

C

Instead you could ask any of the following:

"Is there anything I can do to help you?"
"What could I say/do right now that would make you feel better about X?"
"Can you tell me more about X?"
"Can you name one thing that would be the most helpful to you right now?"
Two caveats: First, you need to do these two things in order: feelings first, questions second. Next, don't ask a question that's really making a suggestion. This would be anything like: "Have you tried setting your alarm earlier so you can get up and work out first thing?"
These are your only responses, gentlemen! Speak to the feeling and then ask a question. No recommendations, suggestions, offerings, great ideas, tips or proposals.
Now, let's say you have noticed that your partner is getting chubbier and it is becoming an issue with you feeling attracted. For something like this, I say don't name the feeling or ask questions as a first effort. There will be time for this later. Instead, lead with how you'd like things to be.
Some examples of how to do this would be:
Offer to grocery shop with her and pick out healthy foods together
Cook some healthy meals for the two of you (or the whole family)
Tell her you want to lose weight or get in better shape and ask if she'll help you.
Invite her for a romantic bike ride and picnic where you pack the basket with healthy snacks.
There are ways to truly support her and steer your relationship in a healthy direction, without telling her she's fat and you're turned off. For those of you thinking this is manipulative and relationships should be based on honesty and directness, I would argue that this supportive route is honest and it's also kind. It puts you together as partners in your relationship. Instead of it being her problem that she needs to fix it becomes a "we" problem that you're in together. This is the true meaning of partnership and this is how you build trust and closeness.
By speaking to the feeling and then asking collaborative questions, you're showing your partner that you're listening to her. When your partner feels heard, she's going to feel more connected to you, so she'll be more open to your ideas and thoughts. Before you know it, she'll be listening to you too.
About the Author
Latest Posts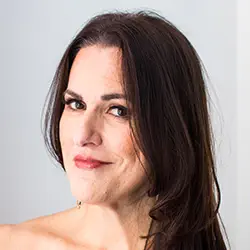 Abby Medcalf is a psychologist, author and speaker who has helped thousands of people create happy, connected relationships. With her unique background in both business and counseling, she brings a fresh, effective perspective to relationships. With over 30 years of experience, Abby is a recognized authority and sought-after speaker at organizations such as Google, AT&T, American Airlines, Kaiser, PG&E, Apple and Chevron. She's been a featured expert on CBS and ABC news, and has been a contributor to Huff Post, Your Tango and Mt. Diablo Magazine. She is the author of the #1 Amazon best-selling book, "Be Happily Married, Even if Your Partner Won't Do a Thing," and the host of the top-rated "Relationships Made Easy" Podcast.