Positive Affirmations For Love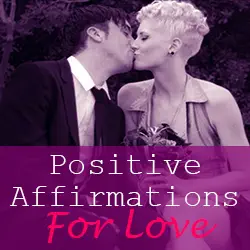 There are days we just need to keep positive and not cast doubt!!
Below are some great positive affirmations in believing in your self worth,  betting your self esteem, thinking positive about your  relationship and that you are worthy of having a positive healthy relationship.
I accept people as they are.
I admire and respect my partner because …
I allow love to find me
I am a good friend; I deserve good friends
I am all that I allow myself to be
I am an attractive, happy person
I am enthusiastic
I am full of grace.
I am fully receptive and appreciative for all the love that my partner showers upon me.
i am in a beautiful relationship with a person who truly loves me
I am in a loving and passionate relationship
I am love, loved and loving.
I am now in an ideal relationship with my perfect partner
I am receptive to my partner's romantic advances.
I am receptive.
I am treating those I love the most with love and respect
I attract only healthy relationships
I can and do what I put my mind, heart and soul into therefore I am
I deserve to be loved fully and completely
I give out Love and it is returned to me multiplied
I greatly admire and respect my partner for all that they are.
I have a wonderful partner and we are both happy and at peace
I know that I deserve Love and accept it now
I love myself and naturally attract Loving relationships into my life.
I make friends easily wherever I go
I possess great inner-strength.
I rejoice in the Love I encounter everyday
I release any desperation and allow love to find me
I release any desperation and allow love to find me; I attract only healthy relationships
I release excessive control. I live positively and let live in a positive relationship.
I release the pain of my unpleasant experiences in love
I verbalize my respect and admiration for my partner daily.
My energy blends perfectly and beautifully with my partner's energy.
my perfect love partner and I are together in mind, body, and spirit
My relationship is filled with love, passion, understanding and fun
My relationship is strong, filled with love and trust
Do you have any other positive affirmations for love we can add to the above list?

About the Author
Latest Posts
Joanna founded Love Engineer Dating and Relationship Advice blog in 2004 after she saw her friends struggling to date in Silicon Valley. Over the years she has introduced 11 couples who got married and still remain married years later.