Masculine Woman, Feminine Man You Need to Choose. Do You Want to be The Girl or The Guy In Your Future Relationship?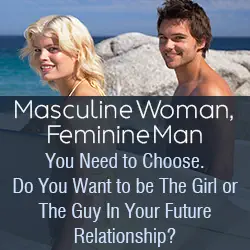 In today's complex social culture, this simple question is actually full of complexity.  If you haven't REALLY looked at the issue your dating adventures will surely be a frustrating maze of hits and misses, mostly…misses…
There are more "masculine" women and "feminine" men in today's world than ever before in the history of humankind, as a direct result of the Women's Liberation Movement, and now what we have is well…a bit of a mess…and also some really wonderful opportunities for modern day single men and modern day single women to decide who they really want to be and the role they really want to play in their future romance.
You're feminine if you are graceful, refined, compassionate, kind, sensitive, tender, soft and patient. Stylish and fashionable, vulnerable, submissive, flexible, adaptable, supportive, receptive, attentive, respectful, tactful, emotional, dependent, passive, quiet, accepting, sensual, vibrant, gentle, helpful and caring. If your focus is on love and sharing, if you're a good listener, and you have soft, flowing energy – you're feminine.
You're masculine if you're strong, aggressive, active, tough-skinned, independent, logical, competitive, tough, rebellious, controlling and protective.  A masculine person is someone who's single-minded, focused and who likes to take-charge and direct. Masculine people are disciplined, independent, stable,  and practical, passionate but non-emotional.
The trouble starts when we have a masculine woman who thinks the right fit for her is a masculine man.  When in reality that masculine man is naturally best suited to be with a feminine woman.  The secret for today's strong, capable, accomplished woman is for her to learn to shift back and forth between both modalities, so she can be effective in the workplace and ALSO have a chance at attracting a man who has the masculine qualities she respects and admires.
Opposites attract. A strong, powerful, successful woman is actually well suited for a man who has softer, more feminine energy.  Thinking outside the gender-role box might just deliver Prince Charming…
Susan owns a successful law practice and her husband, Phil is a creative type – he's a caterer and he loves cooking for the family and taking care of the household chores.  George is a writer and yoga teacher and his wife, Sharon is a physician.
The message?  Take a look to see if you demonstrate more feminine or masculine qualities and then be open to being with and partnering with someone who demonstrates the opposite.  See what happens and report back.  I love to hear your stories…
Julie Ferman
Founder, Cupid's Coach
About the Author
Latest Posts
Julie Ferman is Cupid's Coach. She's a personal matchmaker, dating coach, media personality, professional speaker, and producer of dating industry conferences and events. Julie founded her personal matchmaking and dating coaching service, Cupid's Coach in 2001 to dignify and simplify the love search process for selective, relationship-minded professionals. The company quickly grew to become the largest personal introduction agency in California. Now a subsidiary of eLove, Cupid's Coach serves personal matchmaking and dating coaching clients in over 60 offices throughout the U.S. and Canada. Julie met her husband of 20 years through a proactive love search of her own, and has spent every day since helping the rest of us fall in love and stay in love. With over 1,100 marriages to her credit, Julie Ferman knows the dating landscape and the love business and is eager to share her secrets and insights with us.