He Loves Your Flaws and You Should, Too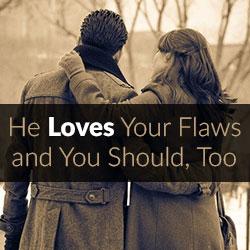 I was inspired to write this article over the weekend when I was feeling super blah and bloated from all the food I'd enjoyed during the holiday. 

Don't get me wrong – it was wonderful to be able to enjoy my family and enjoy some great homemade cooking and desserts…
But as I'm sure you'll agree, at the end of a holiday, a lot of us feel like we have to "get back on track" as far as our eating habits go.
So over the weekend as my boyfriend and I were lounging around the house, I attempted to get myself into a little bit of a better feeling place by giving myself some pamper time.
So, a hot shower, deep conditioning hair mask, blow out, face mask, DIY mani + pedi, whitening strip, and a few hours later,  I slathered myself head to toe in a rich, velvety body butter, and then completed my ritual by doing my makeup and slipping into a new outfit.
You'd think by this point I would be feeling a whole lot better, right?
Well I wasn't.
I had a blemish right in the middle of my chin, (which normally never happens to me by this age) and I was feeling "fat."
Even after my attempt at getting myself into that good, sexy feeling place, I still felt yucky.
My boyfriend didn't see this though. He was passing by the bathroom and stopped in his tracks…
"You look so beautiful…" he said in awe. 
Confused and feeling like total and utter crap, I looked at him blankly, and just as I was about to say to him, "Are you kidding me? I look gross!" I stopped myself.
He thought I looked beautiful – he just said it himself. What would be the point in ruining that for him, and pointing out how I felt I looked? It would shatter his whole image of me in that moment!
Here was a man standing in front of me going on and on about how lucky he felt that I was his, and how gorgeous he thought I was, and I was about to destroy that completely by going against what he was saying and putting myself down.
Why? Why would I do that?
Luckily, I was able to keep my nasty thoughts to myself and just say thank you before smiling and pecking him on the cheek.
After this I thought a little.
I think a lot of us women do this….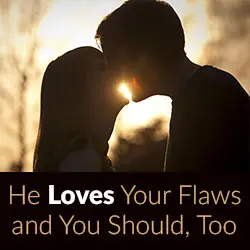 We are SO hard on ourselves regarding our appearance and how we think others perceive us!
Why can't we just give ourselves a break? 
I realized that we are always our biggest critic, and that most of the time, as long as we don't point out a perceived flaw to someone else, they usually won't even notice it. So why bother?
Let them continue to see you as perfect, or beautiful, or whatever – what's the harm in that?
On top of this, if you think about it, have you ever been around someone who is constantly putting themselves down around others?
It's not very attractive, is it? It kind of makes you look at them differently… doesn't it?
A woman who was constantly putting herself down wouldn't exactly exude confidence…
And I mean, just because we THINK something in our minds doesn't mean we have to say it out loud, does it?
After all, doesn't saying something out loud kind of legitimize it? It does for me, anyway.
That's where that saying, "Fake it 'til you make it" comes from.
Just because you're thinking or feeling negatively about yourself doesn't mean you have to verbalize it.
All this will do for you is plummet your self esteem and shatter another's image of you.
On the other side of it, I will say that I think there are certain times when it's okay to talk about your flaws out loud, but only under one condition – that you love yourself for your flaws.
There are plenty of things about me that aren't perfect.
I have two little lines at the top of my nose – also known as "bunny lines" – from constantly scrunching my nose up. I used to hate them, but as I've gotten older I've actually grown to like them. They give me character, and they make me who I am.
I realized my boyfriend feels that same way about my "bunny lines," or whatever other imperfection I have. He loves everything that makes up me, and this includes all of my flaws.
If I choose to talk about this imperfection in a kind hearted, confident way, it's okay, because I'm not doing it in a way where I'm putting myself down – I'm doing it in a way that shows everyone, "This is me, and it may not be perfect, but I like it anyway, and I'm proud of it."
Let's go into the New Year being easier on ourselves and more loving towards ourselves.
It just takes some practice. Here's what you do:
The second you notice yourself thinking a negative thought, catch yourself
Don't verbalize it – just let the thought linger in your mind for a second
Then, either out loud or in your mind, say to yourself, "I'm feeling negative about ___ right now, but that doesn't necessarily mean it's true. I'm just not in a good feeling place at the moment, but I wont let that take over my thoughts or dictate my self esteem."
Then say something else positive about yourself, out loud
Move on with your day
Try this out next time you're feeling critical and notice how much better it feels to be kind to yourself.
About the Author
Latest Posts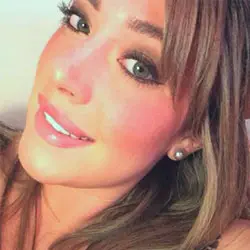 Author of "A New Confidence: The Ultimate Beauty Overhaul – Inside and Out," Georgie is a former beauty editor turned relationship coach. During her magazine days, she was constantly surrounded by countless amazing, smart and very driven women who had been having trouble finding love all their lives. It made her wonder… Why does it seem so effortless for some women to find amazing men who adore them and worship the ground they walk on, while for other women it just seems impossible? She became determined to find out why. Having trained under relationship guru Rori Raye, Georgie can give you access to the secrets you need to know in order to get all the love, attention, and affection from a man that you crave, fast! If you're ready to effortlessly find and fall in love with the man who is going to cherish and adore you and only you forever. You can download your free "5 Steps To Be The Woman He Adores," and sign up for a FREE coaching session with her.