Dating With Children, When is it Appropriate for My Date(s) to Meet My Kids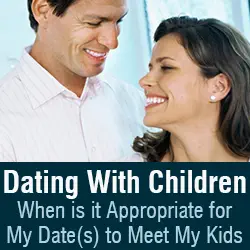 Q:  I am a single parent about to start dating again. When is it appropriate for my date(s) to meet my kids?
A:  Good for you for getting back out to date!  But I think you need to keep dating and parenting separate.  I don't  think it's ever appropriate to introduce your kids to a date.  Only when a date becomes an exclusive relationship with serious long-term potential is it even necessary to involve your kids.  Your kids are learning what relationships are about from you.  And depending on how young they are, they get attached to people easily.  If you introduce someone before you even really know them, you set your kids up for potential heartbreak.  If the relationship doesn't work out and your date stops coming around, your kids may feel abandoned.  And if that happens often you'll teach your kids not to trust.  When you do get serious about someone, how they interact with your kids will be an important part of your relationship.  Kids can be a good judge of character.  But it's not your kids job to help you decide who might be right for you.  It's your job to protect them from getting hurt.  So before you introduce them to anyone ask them how they would feel about it.  Assure them that you will always love them and be there for them.  And ask your partner what he or she sees for your future.  Make sure they are planning to stick around before you bring them into your kids life.
Also, while you're out dating you need to see yourself as a single man or woman, not a single parent.  Of course your kids are an important part of your life, and you should be honest and open about them with any potential partner.  But who are you outside of being a parent?  Single parents are usually better parents when they can get a break and take some time for themselves.  Dating is a perfect way to put some positive attention on you.  Have fun and discover some new things about yourself—that have nothing to do with being a parent.
About the Author
Latest Posts
Donna Barnes is a NYU Certified Life & Relationship Coach and the author of Giving Up Junk-Food Relationships: Recipes for Healthy Choices.. She is based on New York's Upper West Side but coaches clients all over the world via Skype or telephone to help them find the romantic bliss they crave. She's been the on-air Relationship Expert for ABC News' hit series "What Would You Do?" for three seasons. She taught Bret Michael's girls to "Rock at Love" on VH-1. And you may have previously seen her on Good Morning America, Fox News, Late Show with David Letterman, NBC's Today Show, CBS's Early Show and CNN just to name a few. www.DonnaBarnes.com