Living With a Commitment Phobic Cheater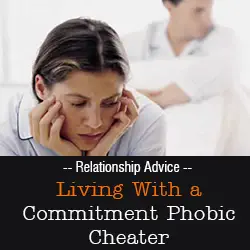 Question:  I met a man who told me he would never cheat. Quickly into dating he asked me to move in with him. One month after I moved in with him he got distant, saying he looks at other women and I must not be the one, if he does. What should I do, everyday he gets more and more distant and I miss who he use to be and when he wasn't so distant.
Answer:  It sounds like he has commitment issues.  Unfortunately, how he is now is who he really is.  He will never go back to how it was in the beginning while you're still living with him.  You living there is giving him anxiety, similar to claustrophobia.  He feels trapped.  The fact that he asked you to move in so quickly is classic commitment phobic behavior.  I know that sounds ridiculous but commitment phobic's do want a commitment.  They're just unaware of their subconscious fear of it.  He's subconsciously  looking to find fault with you so he can get out of the commitment and ease his anxiety.  He's blaming you instead of taking a look at his own issues.  The best thing you can do is give him space.  Once the pressure of commitment is relieved If he does genuinely love you  he'll want you again.  However, the pattern will just repeat itself unless he is willing to admit he has issues.   If I were you, I'd move back out and move on with your life.  If and when he wants to come back, tell him you need to make some changes.  See if he'd be interested in speaking with a professional relationship coach.  But if he's not willing he will just hurt you all over again.  Don't allow it.  And in the future, if anyone tries to accelerate the pace of your relationship, take that as a major red flag.  Subconsciously he knew it wouldn't last, so he had nothing to lose.  The excitement of something new is the only thing that can overpower his anxiety.  You deserve so much better!
About the Author
Latest Posts
Donna Barnes is a NYU Certified Life & Relationship Coach and the author of Giving Up Junk-Food Relationships: Recipes for Healthy Choices.. She is based on New York's Upper West Side but coaches clients all over the world via Skype or telephone to help them find the romantic bliss they crave. She's been the on-air Relationship Expert for ABC News' hit series "What Would You Do?" for three seasons. She taught Bret Michael's girls to "Rock at Love" on VH-1. And you may have previously seen her on Good Morning America, Fox News, Late Show with David Letterman, NBC's Today Show, CBS's Early Show and CNN just to name a few. www.DonnaBarnes.com