Borderline Personality Disorders and Relationships – Alluring Yet Volatile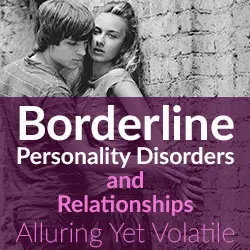 Borderline Personality Disorders, Alluring yet volatile
Personality Disorder will tailor or alter their actions and appearance to please others. He or she will often present himself as a charismatic and clear thinking individual over intervals of time. Three examples can be related to this disorder: the hate collision, the physical seducer and the clingy soul. The borderline personality may take several months, up to years, to complete their cycle. Later in life, this personality will switch back and forth from their evolving personality traits.
Love and hate collide phase volatile. Over time, you may find your own healthy balance breaking down due to this person's harmful traits. You may change and lose your self esteem during this time track. You may even alter your personality in hopes of him or her returning to a clinging stage where they depended more on you, but this does not last. Occasionally you might even cycle back to the hater around the time of a monumental day such as your anniversary, or  that individual's  birthday. Borderline personalities range from the characteristic sense. It is very hard on a loved one witnessing the feat to know what triggered the disruption in reality. A primary identifiable clue is that "the rage-trigger" in reality, is difficult for you to pin point. In borderline personalities, in their minds, the point is always clear. In  him or her  mind he or she may be thinking there is prominent a cause and that cause is "you." Sometimes just the way how you think how you feel, the tone of your voice, the way you look at him or her, the way the you dress, or move will get him or her to try justifying the rage by mentally punishing you for having "hurt him or her."
Physical Seduction and Love
Love and the physical seduction aspect in  him or her  mind It will all seem like reality because inside  him or her  mind it appears to be real. This may be true for  him or her  mind, but this is not what you perceive to be taking place. Seductive in nature and intense, she or he will begin to weigh down on you emotionally. This, in turn, may cause you to feel seductive. You will feel idealized, cherished, elevated, to the level of possibly being uncomfortable. This process will happen very quickly. In a short advancement of time, it may feel like a great deal has transpired between the two both in a brief moment. Her attention or his, the deep focus of his or her eyes, and intense conversation may lead you to feel like you more familiar with him than you really are. You might feel a rapid accelerated feeling of devotion in the first phase because he is a master of design in characterizing himself as a "victim of love" and you are saving him from the sinking ship. Pay close attention to how he or she places themselves as a victim in a sea of darkness. As his or her strange, emotional battle field advances on you, you might be hearing words like; no one understands him or her except for yours truly. He or she will mimic how people have been "insensitive" towards him or her. When he or she has started to trust others again, this personality has been forsaken. There are "unique" and "special" qualities you posses. You authentically seem to "understand" him or her  and the evolving theories.
Love, the Clinging soul Manifestation
Once he has successfully reeled you in with his or her concern and devout attention, it will start to dwindle and subtly shift over time. All of a sudden he or she will seem still interested in you, but will no longer like the same things. His of her interest will become the interest of how serious the two of you are. Something will seem different during this time period." Your feelings and ideas will still fascinate  him or her , but more so if the focus is on this human solely. Some of the borderline personality traits are as follows; vulnerable, detached, depressed, anxious or indifferent. His or her personality will balance from sorrowful depression, to agitated, and emotional before you can even close your eyes. Abnormal behavior patterns noted when he or she is in this mood is like tracking is like watching a volcano about to erupt, or a train wreck about to take place. Whether you are tracking an active volcano or looking at the logistics for a train wreck, you will never know for sure when this person's personality will become volatile and erupt. Everything he tends to complain about at this point will revert back to a feeling of him or her saying, "Save me from my situation, or don't abandon me!" This person's syndrome will not just be of a physical nature. His or her feelings might cause this individual to falter, too. It is best when you find out about this personality to have the person immediately seek professional help, or get out of the relationship altogether. There is nothing worse than if you, too, start to decline like a sinking ship when you have always been able to tread water easily.