Are They Not Interested in Dating, Or Are Just Playing Hard to Get?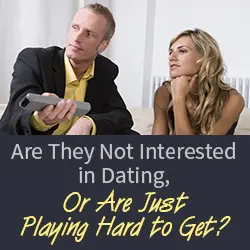 Q:  How can you tell when someone says they don't want to go out if you should move on, or are just playing hard to get?
 A:  Girls who still subscribe to "the rules" may be playing hard to get.  The rules said you had to put a guy off and make him work for it.  In my opinion you only need to do that with players.  But I do believe that a girl needs to keep an active social life and never cancel plans for a date, she just shouldn't  pretend that's the case if it's not.  So if she said she didn't want to go out because she had other things to do, then I'd ask one more time.  But if she turns you down a second time let her know you won't be asking again.  Say something like, "Ok, well let me know if you'd like to go out sometime.  I'll leave it up to you now."  However, I do think most of the time if someone says they don't want to go out it's because they don't.  Now, having said that, confidence is very attractive and by asking one more time you may win her over.  She might just be on the fence about whether she wants to go out with you or not.  Think of something fun to do and ask her to do that with you.  I was at a party once and a guy asked me to go ice-skating in Central Park with him.  I wasn't really sure if I liked him but I had never done that and thought it sounded fun.  So I went—and got to know him better.  If you're not sure if she's interested in you, see if you can get her interested in doing something specific.  Then if she still says no don't waste any more time or energy on her.  Unfortunately a lot of people have very lose boundaries and have a hard time saying no.  So what may seem like playing hard to get to you might really just be a lack of healthy boundaries.
And if you're a girl asking a guy out, you're taking the masculine role.  If he's a masculine energy man the very fact that you're doing to asking is probably what's turning him off.
About the Author
Latest Posts
Donna Barnes is a NYU Certified Life & Relationship Coach and the author of Giving Up Junk-Food Relationships: Recipes for Healthy Choices.. She is based on New York's Upper West Side but coaches clients all over the world via Skype or telephone to help them find the romantic bliss they crave. She's been the on-air Relationship Expert for ABC News' hit series "What Would You Do?" for three seasons. She taught Bret Michael's girls to "Rock at Love" on VH-1. And you may have previously seen her on Good Morning America, Fox News, Late Show with David Letterman, NBC's Today Show, CBS's Early Show and CNN just to name a few. www.DonnaBarnes.com