A Story of an Adopted Child and Adopted Adults Relationship Issues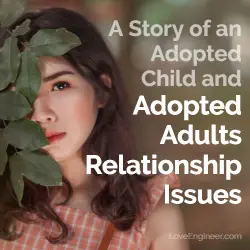 Adopted children; unique, loving, and full of wonder
Adopted children are very unique. They were not raised by their original, loving birth parents that could give them a healthy, well-nourished, natural upbringing. Instead, they are shipped off to foster homes, or even worse, an orphanage. Thus begins the story of Faith St. Claire. According to the American Academy of Child and Adolescent Psychiatry, there are approximately 120,000 U.S. children adopted every year.
A partial government report is provided below of the actual breakdown of children waiting to be adopted and where they ended up in 2010.
Trial Home Visit 1%, 62
Group Home 4%, 3,872
Pre-Adoptive Homes 13%, 13,581
Foster Family Home (Non-Relative) 55%, 58,633
Foster Family Home (Relative) 22%, 23,735
Institutions 5%, 5,775
Supervised Independent Living 0%, 84
Runaway 0%. 465
Faith's journey through being adopted and feeling abandoned
After Faith was frivolously shipped off to an orphanage, within a year she still remembers being asked to go over and hug this one man in his early 20's who had shown up at the orphanage with his wife. It was explained to her ahead of time by a care giver that he might become her future dad. Faith not even realizing that destiny was calling her and went over and hugged this total stranger with a childlike wonder. The next thing Faith knew she was adopted into this Catholic couple's household. Even though Faith was rescued from one type of fate, another one was lurking around the corner, and its name was the "feeling of abandonment." This type of fate is actually more typical in adopted children than most people will ever know. Growing up adopted, Faith never figured out how to be nurturing, loving, and stable in her relationships with others. This further hindered her later in life when she went looking for her future soul-mate. She can recall being young and having a problem with abandonment.
Adopted children are impressionable and need to feel secure
Often children who are taken out of one home and placed in another at an early age, have a hard time learning how to be comfortable when others leave. The older people in their lives could just be gone for a moment, gone for a day, on gone on vacation. Yet, to a young, impressionable adolescent, it may feel like he or she was left behind. Until the moment Faith actually confronted her feelings of abandonment at the right level, she could not get past her tainted view. Until she learned healthy ways of setting that negative feeling aside, she could not more on and feel more secure in the world around her. In her personal relationships with men, after trying to find her future husband, it was very hard for her to feel completely comfortable. Soon, the feeling that she wasn't as nurturing as others, set in, too.
Faith in the future; fast forward with being adopted and non-nourishment
Fast forward into the future; Faith is now in her early 40's and she still senses an aura she is not that nurturing towards others as her female counterparts. She is still single, and has not produced any children. She tries her best to be lore like the people around her with supportive instincts and in healthy relationships, but this is done in vain. She strongly feels because she didn't stay with her original family, not basking in the knowledge that she was loved, she now feels she is living half a life. As much as she can, Faith is still trying to contemplate how to be more nourishing, so she can have a lasting relationship, with a loving husband. Faith's mood is one of someone trying to complete that last hurdle for the finish line. Unless she becomes the hurdle jumper, attacks this feeling of unbalance, she will not be able to progress into a lasting relationship with her future soul mate. The saddest part of this story is that there are millions of people like Faith, approximately 120,000 each year. They are struggling with these same trials and tribulations. Adopted adults relationship issues,  do you know someone like her? Do you dare to love Faith?
About the Author
Latest Posts
Lauren Castle is an internet article writer. She consults with people all over the Bay Area and beyond for their take on internet dating, which is one of her writing categories. In her spare time she sings karaoke, travels, reads various topics, and visits the beach nearby.
Born in San Francisco, CA, Lauren was raised and is currently a resident in Fremont, CA where there is an affluence of culture, diversity, and industry. She spends her spare time volunteering for a private Industry where she has met many positively influenced people. One of her future projects in the works is helping write a book that will impact the lives of many people.
Connect with Lauren Castle Writer for Love Engineer
Google+