5 Foolproof Tips to DateWorthy Profile Photos
If you're on the dating scene, you know it's difficult to find the right man or woman – the ONE – the Ron to your Hermione, the Olive Oyl to your Popeye, the Brad to your Angelina. So maybe you've tried online dating. And why not?
Out of 54 million single people in the USA, 40 million of them have at least tried online dating – 15 million of them are on match.com alone! So chances are very good that your Mr. or Miss Right is online, just waiting to meet up with you so you can start the love of your lifetime.
Why not tip the scales in your favor with first rate profile photos? Your photo is the first thing a potential mate will see, so it's got to be great.
Let's face it – would you rather date girl A or girl B?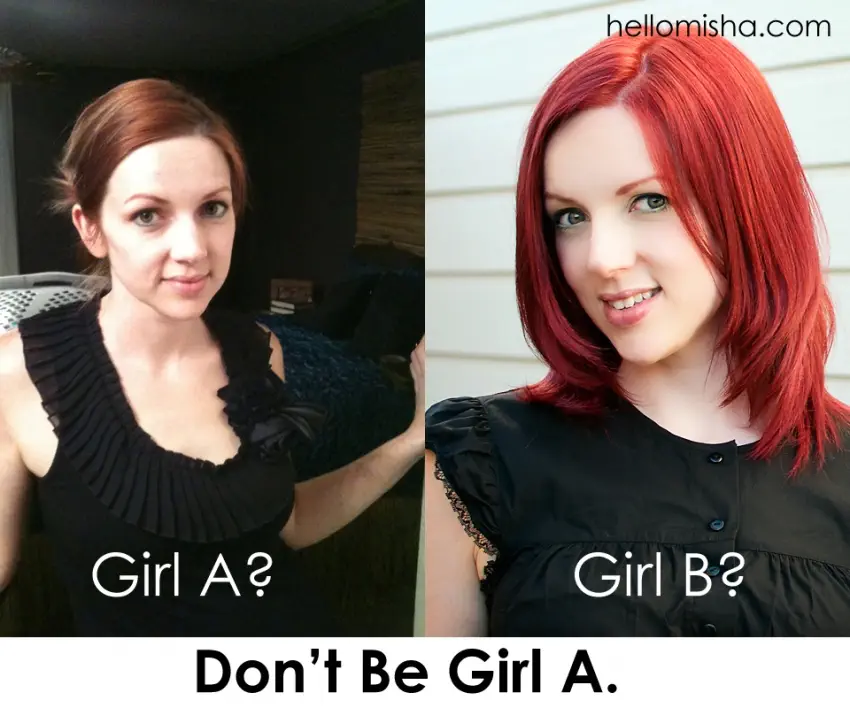 It's the same person, but I'd sooooooooooo click on Girl B! (OK, they're both me, so don't make too much fun of my laundry basket in the comments!)
So are you currently Girl or Guy A? Let's change that.
The top five things to consider when taking your dating profile photos are as follows:
1) Look Your Best – take the time to create a photo where your hair is styled, you're appropriately dressed AND you're smiling. This sounds like a complete "Duh!" of a tip, but if you've spent any time on match.com, you've seen images of men in rumpled Hawaiian Shirts and women in scraped back ponytails. Make sure your hair and makeup (if you're so inclined) are well done and you're wearing a simple top and tasteful accessories. You can always break out the Hawaiian shirts again after date #3.
2) Mind the background of the image – this doesn't mean you have to have a few Picassos and a Maserati in the back of the photo, but it DOES mean you might not meet Mrs. Right if your profile photo was taken with wet T-shirt night at Sharkey's in Cabo going on behind you. Find a wall – a simple, graffiti-free brick wall is great! – and stand a few feet in front of it. All we want to focus on is your gorgeous face, so don't go distracting us, ok?
3) Get comfortable – If you don't know how to pose while standing, have a seat. Feel awkward about your hands? Put 'em in your pockets or run them through your hair. Try four or five different poses until you get the one that feels GOOD, if you have to. Don't stress about it too too much – this isn't America's Next Top Model.
4) Drop the props – What kind of message does it send if you're holding a cocktail in the photo? Maybe you think it says "fun party girl!" but it's actually coming off more "can you call me a cab? *Hiccup!*" Similarly, a man holding a briefcase can be meant to be "studly provider" but be perceived as "complete workaholic". Just keep them out of the photo and avoid the issue altogether. (About the only example I can come up with to refute this is a dog. Dogs are pretty much universal date magnets.)
5) Hire a pro – if you absolutely want the best result from your profile photo, go with a professional photographer. They can help you pose in a way that's both figure flattering and interesting and take a variety of photos that show your serious side, your playful side, your cute side and your sexy side (if you're into that).
Pssssst – If you're in Orange County, CA and you want to work with me, give me a call at 714.584.8931.
After collecting your payment, we'll book two meetings – a phone consultation (in which we discuss your interests, what to wear and why you shouldn't bring your fishing trophy or your mom to the appointment) and your photo session.
At the 30-60 minute session itself, you can bring as many clothing options as you like and I'll advise you as to what looks best in photos and how to pose so you don't have that yuck-awkward-I'm-being-photographed feeling. About a week later, you'll receive a zipfile of 10 fully retouched but still completely, honestly YOU images that will be ready for uploading on facebook, match, eHarmony, etc. Your new, more date-able photos will garner you all sorts of winks, nudges, emails, and most importantly DATES.
How much for this fantastic little morsel of photographic love? $300. 300 little smackers towards getting you, well, big smackers. (OMG, did I just make that awful pun? I'm very sorry about that. I just get kind of corny when I think about people falling in love.)
Here's the thing, though – this is an introductory thing – a teaser, if you will – for a big, fat, juicy project I have on the horizon so I'm only offering FIVE of these mini sessions at the current price. That's right. 5. After the first five, the price will go up to $500. $200 is a pretty good incentive to book fast, right?
So call! 714.584.8931! (or if you're very anti phone, email me at misha@hellomisha.com) Let's get you on the way to your Angelina or your Brad ASAP!
About the Author
Latest Posts
Joanna founded Love Engineer Dating and Relationship Advice blog in 2004 after she saw her friends struggling to date in Silicon Valley. Over the years she has introduced 11 couples who got married and still remain married years later.